So after writing a little embroidery 'how to' guide on this blog, I thought I'd give you guys some added embroidery inspiration by showcasing some of my fave embroidery artworks/artists. I discovered most of these artists whilst doing an school art project, but they're by no means an exclusive list, especially as embroidery has becomes ever more popular.
Jenny Hart
Harts work is nearly always very detailed, and inspirational from a stitching point of view. Yet there is also something very charming about her odes to iconic figures like Piaf, alongside embroidered pencil sketches of students.
Franko B's series 'I still love you' is incredibly different to Jenny Hart's work, most obvious in the bareness of line. Yet this bareness is incredibly effective, giving a poignant air to his imagery. Sure Franko could have drew these images conventionally, but the connotations of embroidery- of romance and delicacy alongside the actual violence of needle puncturing fabric- are so befitting of the images.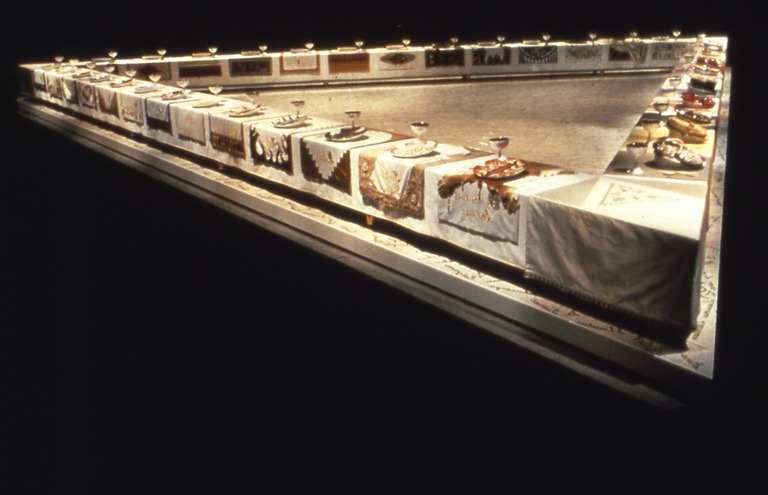 The Dinner Party by Judy Chicago is a triangular table made of up 39 place settings each with an embroidered runner and accompanying crockery. Each place celebrates a 'significant' female in Western history. The scale of this piece is immense and understanding it as a project that took 5 years from conception to production always impresses me. It's hard to find good images of each runner but if you can get the chance to look in a book (or in person!) it's well worth it to see the high level of technical ability and the glorious imagery of the runners.
I can never find much on Barboza, except her seemingly defunct blog which archives a variety of her works. It's a great place to go back to and be inspired by a good variety of textile works that combine the pretty with the brutal.
Amer works in paint, sculpture, print, topiary, pencil, crayon, thread and often all at once. More striking than that is her recurring subject matter- female sexuality, pop culture, satire, and love. I find all her work really thought provoking, but I particularly like her selection of large thread pieces that when looked closely at often reveal sexual images.